A Potato Recipe For The Summer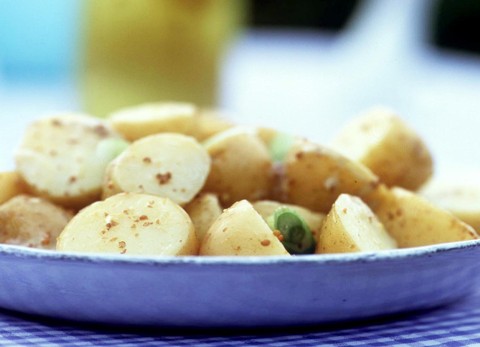 Ingredients
500g New Potatoes, scrubbed and halved
1 Tablespoon of wholegrain mustard, allow a little bit more should your taste buds desire! Mine do.
4 Spring onions, finely sliced
1 Tablespoon clear honey
2 Tablespoons good olive oil
1 Tablespoon white wine vinegar
1 Tablespoon low fat mayo
Preparation
Add the potatoes to a pan of lightly salted boiling water.  Cover and simmer until the potatoes are tender and cooked.  Drain and return to the pan.  Mix the rest of the ingredients together in a small jug and add to the potatoes. Season to taste and allow to cool then serve into a pretty dish and enjoy with a simple salad, fish, chicken to use as a side dish to a barbecue al fresco style.
Enjoy!