Helen's Soggy Cycle Through Yorkshire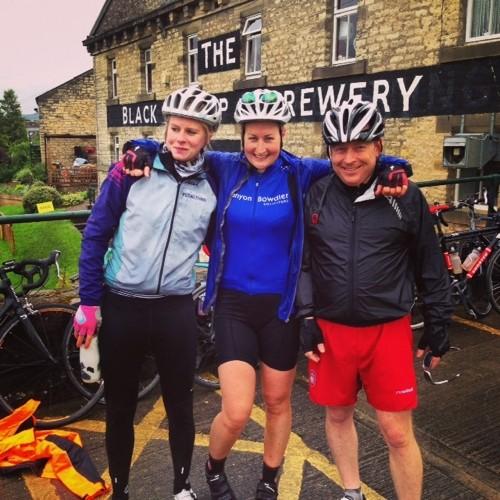 Our Office Manager Helen Stokes takes part in an 80 mile cycle as part of her Stoker 5 Challenge to raise money for Mind. The sportive was organized by Carter Jonas to raise funds for Yorkshire Air Ambulance and Sustrans and followed part of the 2014 Tour de France route:
"As I travelled up to Yorkshire, car packed full with bikes and kit, to meet my fellow cyclists from Team Lanyon Bowdler, the sun was a shinning, sunglass and summer dress on. In my car, excited about cycling through 80 of miles of the Yorkshire hills, taking in the hills and views, which will be used for the Tour de France. I love cycling and the Tour de France and I couldn't wait.
I met up with my team from top Shropshire based solicitors, Lanyon Bowdler for a feed of pasta and an early night.
We woke up to find the sun had been replaced with the sound of rain on the roof of our hotel over our porridge we checked the weather report and our stomachs sank with disappointment and dread.
However, when arriving at the beautiful Ripley Castle, the rain was heavy and I mean heavy. I was absolutely soaking from the moment I stepped out of the car, the sky go not indication of it stopping. Cycling for 80 miles in the beating rain suddenly seemed daunting and disastrous. I knew the route wouldn't be easy, it would be challenging with several arduous hills, including beastly Kidstones Pass taking us to a total of 6,000ft climb. With this amount of rain it would be quite precarious!
During the ride, only about 10 miles in, the rain still hammering down, it was so heavily onto my face that I could barley open my eyes. It was safe to say all four of us were absolutely freezing cold; the only thing to keep me going through the first 30 miles was the thought of a hot, steaming, sweet cup of tea. We arrived at the checkpoint to find NO CUP OF TEA! Instead we had a quick energy bar and cycled on.
Next stop was the wonderfull Black Sheep Brewery, where we stopped for welcome refreshments and a quick look at the lovely resuarant and cafe (unfortunatley no time to try out the menu or even a beer, but I will definatley be back to sample their goods!!)
We eventually got back to the finish back at Ripley Castle, cold, wet but we truly were thrilled we pushed on through but we were thrilled we accomplished the cycle, with some 300 riders we helped to raise over £10,000 for charity."
The riders from Lanyon Bowdler used bikes provided through Cyclescheme, a tax-free bike to work scheme, which Lanyon Bowdler encourages as GreenAchiever environmental accreditation for businesses.