The Green Gardener
Follow our blog on all things gardening and grow your own, from "How to's" to interesting facts and recipes you can make with your home grown garden produce.
Things to Do With Elderflower
Things to do with Elderflower
Its that time of year again when we see that beautiful, creamy white hedgerow favourite, the Elderflower has always been one of my favourites. It's a wild shrub which grows all year rounds but producing an edible flower which can be used in many creations.
The ancient shrub which can be found throughout the country, flowers from May to July every year, later turning into elderberries. With large blooming heads and a beautiful fragrant smell, this shrub is one I have grown up knowing and loving.
From an early age I have harvested Elderflower to make a cordial but you are not limited to this recipe alone; there is so much you can do with Elderflower. Let me show you: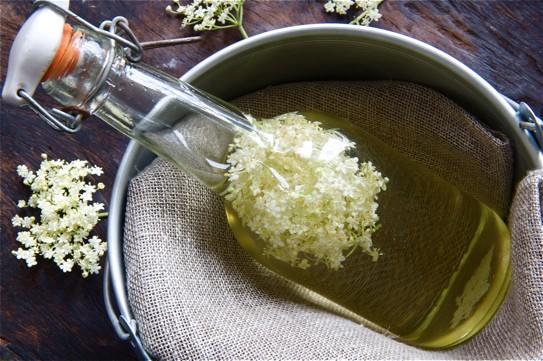 The Classic Elderflower Cordial
Ingredients
Preparation
Once you gave picked the elderflower heads, wash them, making sure you irradiate all creepy crawlies! Place them in a large bowl.
In a large saucepan add the water into the sugar, add a gentle heat and stir until the sugar has dissolved.
Take the sugar syrup off the heat. Take some of the zest off the lemons then chop the rest of the lemon in half adding it to the elderflower heads. Pour the sugar syrup over the elderflower heads. Add the citric acid and cover with a cloth. Leave at room temperature for approx. 24 hours.
Once the 24 hours is up, strain the cordial through some muslim or a fine sieve. You could always use a tea towel rinsed in hot water to take away the washing powder taste. Pour the newly made cordial into pretty bottles and use when needed.
Some Serving Suggestions:
Non alcoholic cooler - Add cordial to tonic water, serve with ice and lemon slice decorations.
Elderflower Bellini - Pour the cordial into a champagne flute, top up with champagne or prosecco.
Elderflower Sorbet - Pour some of the cordial over lemon sorbet as a beautiful, summer dessert.
How To Make Elderflower Jam
To make approx. 3 jars:
Preparation
Pop the elderflower heads in a large jam kettle or heavy based sauce pan and pour in the water. Cover with a lid and leave for 3 days.
Pour the liquid through a fine sieve and back into the pan, add the lemon juice and sugar and boil for 5 minutes.
Spoon the jam into sterilised jam jars.
Close the lid and store in a cool place.
Refreshing Elderflower, Cucumber & Gin Summer Ice lollies
I love these little ice lollies, a real weekend treat great for parties or after a days work in the garden.
Ingredients
120ml elderflower cordial
Preparation
In a blender or smoothie make, blitz all of the ingredients together.
Place in a sieve push all the liquid through, then pour into ice cream moulds.
Place in a freezer until frozen solid, preferably over night.
Please get in touch if you have any great elderflower or berry recipes.