Tomato Recipe
For these buttery-soft roasted tomatoes, I have excelled the flavor of the creamy goat cheese filling with garlic and basil. The result works both as a side dish, starter or a main course with a salad and crusty bread.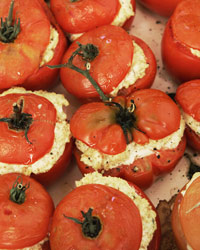 12 Medium sized tomatoes
1 2/3 lbs Fresh goats cheese
1 Large egg, beaten
2 Cloves Garlic, minced
2 Tablespoons finely chopped basil
1 teaspoon salt
1/4 pepper
6 Tablespoon's olive oil, a good one!!
1.  Preheat the oven to 200 degrees celsius, gas mark 6 or 425 degrees.  Slice off the top 1/2 inch of each tomato and reserve the tops.  Scoop out the cores and sees.  Cut a very thing sliver of the bottom of each tomato help them stand up straight.  Arrange the tomatoes in a ceramic baking dish.
2.  In a bowl, combine the goats cheese with the egg, garlic, basil, salt and pepper and 2 tables spoons of the olive oil.  Spoon the goats cheese mix into the tomatoes, mounding the filling 1/2 inch above the rim of the delicate red delight.  Cover the tomato tops and drizzle with the remaining olive oil.
3.  Bake the tomatoes for 35 minutes until tender and browned in spots and the cheese is hot.  Let them stand for 15 minutes and serve warm.
Lovely!!