Up-cycling Old Pallets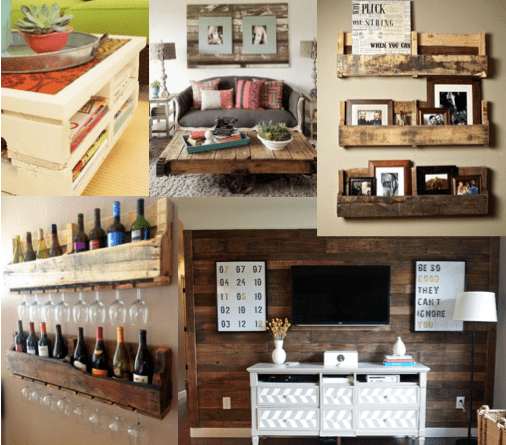 What to do with left over pallets
Not sure what to do with your left over pallets? Don't throw them away! There are many ways to make the most of your pallets, which are effective and cost effective. Whether it is making furniture, shelving, decorative wall art or flowerbeds. We have had a lot of calls asking what to do with the pallets after delivery, and thought it would be a great idea to suggest to you, a fun alternative, other than a trip to the local tip. There are many ways you can turn a few simple planks of wood into a distinctive or individual item for your home or even gifts!
Make it simple
Some of these ideas involve taking the pallets apart, and making something from scratch. However if you haven't the patience to get completely arty or simply and don't have the time, then below will show you how easily and quickly you could add another item to your home, with very little expense made.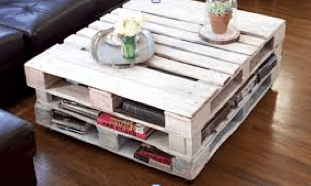 Here you can see this is a simple stack of three pallets, of which have been sanded down and white washed to create this effect. All the pockets within the pallets create a great space for storage. U could even top the table off with a glass top, to give it a complete and finished look. Maybe have a play with different wood stains and varnishes to give from modern look to a rustic and aged look >> http://www.wikihow.com/Stain-Wooden-Furniture
And if your feeling a little more creative, what about a bed base, wall rack, bed head board or coat rack. Please see images below,
Check the pallet is safe to use!
When there is no stamp or mark on the pallet, this simply means that it's a "national pallet" that is used for domestic transport. Most of them are not treated with chemicals, so will be safe to use in the home.
Why not get creative in the garden too!
Pallets are perfect for flowerbeds, raised beds or even compost bins!
Why not make some art for your home or even a gift for a friend?

All you need is some varnish, a stencil and paintbrush. Just creating a simple canvas of pallet pieces, you can create some really pretty / rustic pieces for the home. Or even personalize them for gifts.

Do your Prices Include Delivery?

Do your Prices Include Delivery?

Standard delivery (2-5 working days) to most postcodes is included in the price, however we do charge a small delivery surcharge to some postcodes. This is shown in the checkout when you have enetered your delivery address, along with any other delivery options such as Express Delivery (1-2 working days).

What Days Do You Deliver On?

What Days Do You Deliver On?

Our standard working day deliveries are made Monday to Friday only, with the exception of turf which can not be delivered on a Monday.

We can deliver on a Saturday if you select the Saturday AM delivery option in the checkout and order before 1pm on the friday before.

Can I Choose a Delivery Date?

Can I Choose a Delivery Date?

Our Checkout offers you the ability to select a delivery date for your order.

Available delivery dates for the products in your cart will be shown along side any delivery service options.

Please Note: Although we achive over 99% on time deliveries, we can not be held responsible for any missed delivery dates caused by third party delivery agents.

How Do You Deliver?

How Do You Deliver?

We deliver our products via a pallet delivery network (either TPN or Palletways).

Deliveries are made on large curtain sided vehicles and goods are delivered on a pallet. We require a smooth level surface to deliver on to such as tarmac, block paving or concrete and we can not deliver on to gravel or grass.

Our delivery service is a kerbside delivery only.

Can I book a Time Slot?

Can I book a Time Slot?

AM or PM slots can be booked as an additional delivery surcharge from £15 + vat.

AM Deliveries, are between 9am - 1pm

PM Deliveries are between 12pm - 5:30pm

If you would like to book a Time Slot, please call our Customer Service team on 01785850653

Are all Delivery Dates the Same Across the Range

Are all Delivery Dates the Same Across the Range

For the most part, Deliveries for most products depending on your postcode will be the same. Standard Delivery usually takes up to 5 Working Days, and Express Delivery is 1-2 Working Days. Some products may have a delivery lead time on them in busier times, lead times will be shown on the product page.

Can I get Turf Delivered on Monday

Can I get Turf Delivered on Monday

As of right now, we don't offer Turf on Mondays due to the farm coming back from the weekend, they have to cut the orders for the next day, in our case, the Tuesday.
Therefore, Turf orders are availble Tuesday - Friday on Standard Delivery and Saturday (if you choose a Saturday AM Delivery Method).

How can I get in touch?

How can I get in touch?

Getting in touch has been made as easy as possible!

Operating between 9am - 5am, a live chat will nearly always be an option.

Alternatively, you can reach us on the phone by calling any of these 3 numbers.

Sales Line: 0871 971 0988
Customer Services: 0333 321 6896
General Enquiries: 01785850653

How long should I leave turf before laying?

How long should I leave turf before laying?

Turf is a living plant and should always be laid as soon as possible and we strongly advise that turf laying commences as soon as the turf is delivered. In summer months turf should not be left overnight and should be laid on teh day of delivery.

Is there a charge to re-delivery

Is there a charge to re-delivery

If you need a product re-delivering, this can be done by giving us a call on our number below:

Depending on the product and postcode, the re-delivery fee would vary. As mentioned above, feel free to call us, to arrange for re-delivery.

Is there a charge for cancellation?

Is there a charge for cancellation?

Orders can be cancelled without charge if they have not been dispatched, however if the order is in the hands of the delivery company then return charges will apply on cancellation and we may not be able to stop your order until delivery is made.
With Turf, it's slightly different, as once it has been cut, it cannot be cancelled.
It's ok to change your mind - call us and we can look into cancelling the order.
03333216896

Do You Provide an Estimated Time?

Do You Provide an Estimated Time?

We can provide an Estimated Time for your order - get in touch with us, on the day of delivery and we can chase that up, for you!

How can I track my order?

How can I track my order?

Tracking your order for most products is easy - alongside our emails that we send with your order we will also send you text message updates on you delivery progress, you will find a tracking link where you can see the timeline of your order, all the way up to being completed!
If you have ordered Bark, you may need to give us a call and we can call the Hauliers to chase that estimated time for you.

As you can see there are plenty of ways to make good use of your left over pallets, please let us know of your creations!

Good Luck!

Kim