Premium Raised Bed Kit With Compost
QGS-Bed-Kit-Veg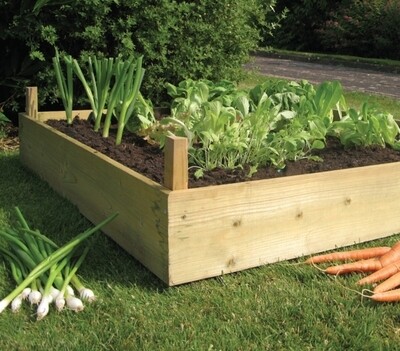 Raised Bed Kits
Premium Raised Bed Kit + Compost
A quality timber raised bed kit, made from pressure treated timber.
1m wide x 1.2m long and 20cm high
Made from Heavy Duty 2 inch thick pressure treated timber
Stackable and interlocking design
Delivered complete with 8 x 50 litre bags of peat free compost per section.
Supplied Ready Assembled
Each bed section measures 1m wide x 1.2m long and 20cm high and is made from pressure treated 2 inch thick timber.
This premium raised bed kit comes with enough quality peat free vegetable compost to fill the bed and is supplied ready assembled.
Delivery is made via a curtain sided vehicle with a tail lift offload. Guaranteed to kerbside only. For more information please see our delivery details.
Uses:Vegetable Growing
Available Next Day:Yes (if ordered before 12.30)
Raised Bed + 8 Bags Compost (0)
2 x Raised Beds + 16 Bags Compost (0)
3 x Raised Beds + 24 Bags Compost (0)
4 x Raised Beds + 32 Bags Compost (0)
5 x Raised Beds + 40 Bags Compost (0)