Weather Vanes
POP-WEATHERVANE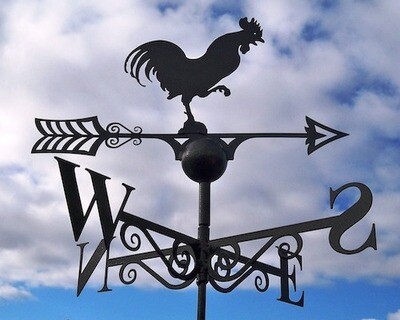 Price :
95.825
GBP
In stock
[tab name="Description"]
WEATHERVANES
Beautifully crafted weathervanes with a wonderful variety of designs to suit your own unique tastes and hobbies. Each weather vane is constructed from laser cut super strong Zintec steel (3mm thick), coated in a highly durable antique black polyester powder over an iron phosphate primer. They come with full instructions, sturdy vertical mounting with a 6" reach and N E S W directional arms included. They can be attached to the roofs of houses, sheds, summerhouses etc. anywhere where there is a clear flow of wind.
Dimensions: W61 x H88 x D53 cm
Choose from a variety of designs:
Cockerel Weathervane
Welsh Dragon Weathervane
Shooting Scene Weathervane
Galleon Weathervane
Pheasant Weathervane
Man & Labrador Weathervane
Salmon Weathervane
Golfing Weathervane
Stag Weathervane
Hedgehog Weathervane
Pig Weathervane
Boxing Hares Weathervane
Squirrel Weathervane
Spitfire Weathervane
[endtab]
[tab name="Delivery Info"]
Delivery
Free Delivery direct to your door via parcel couriers, DPD, DHL, Yodel are all used.
5 - 10 day lead time.
[endtab]
UPC:5013299000274
Brand:Poppy Forge
Product Lead Time:3