Kiln Dried Birch Firewood Crate
KD-Birch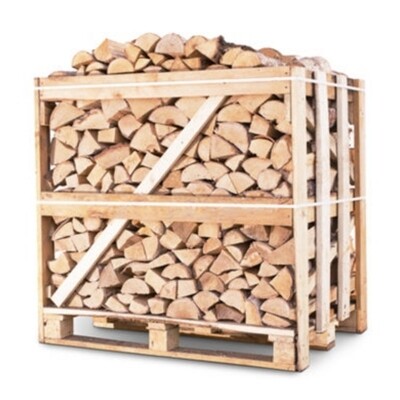 Price :
284.76
GBP
In stock
[tab name="Description"]
Kiln Dried Birch Firewood in a Stacked 1m³ Crate
This product is excluded from all discount code promotions

Great value kiln dried Birch firewood in a tightly packed 1.17m³ crate.
100% Birch Kiln Dried Firewood
Crate Dimensions : 125cm x 113cm x 83cm (loose volume 1.56m3)
Kiln Dried to less than 20% moisture (generally around 15%)
Log Length 25cm (10 inches) +/- 2cm
Kiln dried Birch logs make excellent firewood, birch burns really well, generating a lot of heat quickly and is an excellent choice for smaller log burners. Our birch firewood is all kiln dried and lights very easily.
Buying a crate of our kiln dried logs is excellent value as crates offer a significantly larger amount of firewood than our bulk bags. The firewood is tightly stacked in the crates giving you approximately 1.56m3 of loose timber or 1m3 of tightly stacked timber. Bulk bags are all loose filled.
Price includes standard delivery to most postcode areas (surcharges may apply for more remote areas).
[endtab]
[tab name="Delivery"]
How We Deliver
We use an 18 Tonne Curtain Sided Vehicle.
Our Vehicles are approx 3 meters wide, 9 meters long.
We offload at the back of the vehicle
We use a Manual Pallet Truck and a Tail lift. (We do not use a Hi-Ab or Crane Service)
We push the goods to the delivery point, however, the drivers first port of call is the kerbside.
We need a FLAT and HARDSTANDING delivery point to offload onto. This includes the road, as the driver will only offload by the roadside.
Please note, we cannot deliver onto the kerbside if there is no drop kerb that is flush with the ground, nor can we deliver if the road the vehicle is parked on, is on any slope (both incline and decline).
[endtab]

Type of Fuel:Kiln Dried Hardwood Logs
Pack Size:Crate (125cm x 113cm x 83cm)
Kiln Dried Birch (0)