Burnwell Blend PLUS+ 40 x 25kg Bags
MGF-Burnwell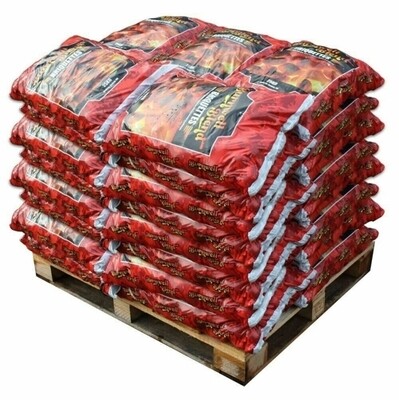 Price :
542.86
GBP
In stock
[tab name="Description"]
Burnwell Blend Plus+ Briquettes
This product is excluded from all discount code promotions
Smokeless Briquettes
Burnwell Blend Plus is a new premium quality smokeless briquette that has been developed to meet the customers requirements.

Maximum Heat Output
Very Low Ash
Less than 2% Sulphur
Less than 5 grams per hour average smoke emissions
Easy Lighting
Great Value
Dimensions of a Briquette when made - 79mm Long, 57mm Wide and 37mm High
Burnwell Blend+ Briquettes provide maximum heat output with low ash content and are suitable for use in both open and closed appliances (open fires and multi fuel stoves). The Burnwell Briquette shape has been designed to produce a strong oval which resisted breakage and is easy to light.
Burnwell Blend Plus is a smokeless briquette suitable for use in Smoke Control Areas.
The product is delivered on a pallet containing 40 x 25kg bags (1000kg of burnwell plus briquettes) by a pallet delivery network, using a tail lift off load.
[endtab]
[tab name="How We Deliver"]
How We Deliver
We use an 18 Tonne Curtain Sided Vehicle.
Our Vehicles are approx 3 meters wide, 9 meters long.
We offload at the back of the vehicle
We use a Manual Pallet Truck and a Tail lift. (We do not use a Hi-Ab or Crane Service)
We push the goods to the delivery point, however, the drivers first port of call is the kerbside.
We need a FLAT and HARDSTANDING delivery point to offload onto. This includes the road, as the driver will only offload by the roadside.
Please note, we cannot deliver onto the kerbside if there is no drop kerb that is flush with the ground, nor can we deliver if the road the vehicle is parked on, is on any slope (both incline and decline).
[endtab]
[tab name="Our Goal"]
Our Goal
Our Goal is to save you more this winter. It's short and it's sweet. We strive to offer the best products, with the best prices, to save you more this winter. We don't cut corners to save you money, either. We use 2 of the largest delivery networks in the United Kingdom, to reach as far and as wide as possible.
[endtab]
Type of Fuel:Smokeless Briquette
Pack Size:10,20,30, or 40 x 25kg bags
40 x 25kg Bags - £14.25/ bag (0)
30 x 25kg Bags - £15.85/ bag (0)
20 x 25kg Bags - £17.85/ bag (0)
10 x 25kg Bags £21.25/ bag (0)