Large Log Store - Hand Made
CA-large-log-store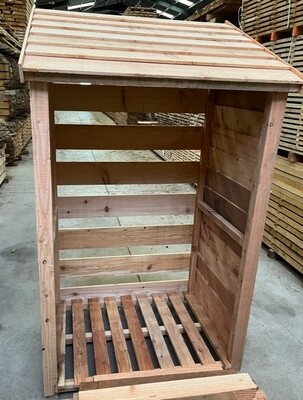 [tab name="Description"]
Hand Made in the UK
These log stores are all individually made by hand, by a wood working craftsman!
Made from quality British timber with galvanised nails and screws, these log stores are built to last!
Our logs stores a traditionally built to store and dry (season) logs, the sides of the log store are slatte, allowing a free flow of drying air to circulate around and through the logs. The log store also has a feather edge weather boarded roof to keep the rain off.
Will hold approx 1 cubic metre of stacked logs
Built to last by hand
Galvanised screws and nails
H1.5m x W1.0m x D0.7m approx
Delivered Fully Assembled
Price includes delivery to most areas.
[endtab]
[tab name="Delivery"]
How We Deliver
We use an 18 Tonne Curtain Sided Vehicle.
Our Vehicles are approx 3 meters wide, 9 meters long.
We offload at the back of the vehicle
We use a Manual Pallet Truck and a Tail lift. (We do not use a Hi-Ab or Crane Service)
We push the goods to the delivery point, however, the drivers first port of call is the kerbside.
We need a FLAT and HARDSTANDING delivery point to offload onto. This includes the road, as the driver will only offload by the roadside.
Please note, we cannot deliver onto the kerbside if there is no drop kerb that is flush with the ground, nor can we deliver if the road the vehicle is parked on, is on any slope (both incline and decline).
[endtab]

Brand:Quality Garden Supplies Ltd
Size:w 100cm x d 70cm x h 1500cm
Made in:Great Britain (Hand Made)
Product Lead Time:3