30 Metre Starter Hose & Fitting set by Hozelock
HOZ-7230P9000-30HOSE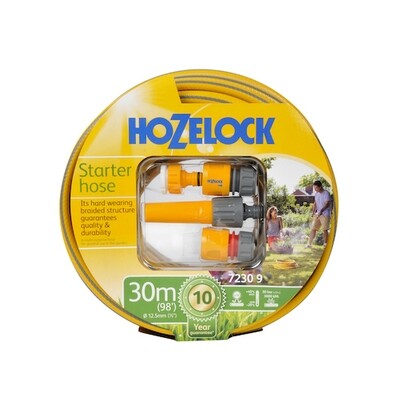 Price :
33.325
GBP
In stock
[tab name="Description"]

The Hozelock 30 metre Starter Hose Set is ideal for medium size gardens and includes everything you need to get up and watering in minutes where you have an outdoor tap.
The starter pack comes with:
30 metre hose (12.5 mm (1/2") boar) manufactured from a hard wearing braided construction guaranteeing quality and durability.
Threaded Outdoor tap connector.
1 hose end connector - connects the hose to the tap adaptor.
1 water stop connector - attaches to the end of the hose preventing water release when changing between sprinkler and hand spray.
Adjustable spray nozzle.
An additional tap connectors is required if you do not have an outdoor tap.
If you don't have an outside tap, you will require one of the three tap adapters listed below to connect your hose to an indoor tap.
Adapter A - Standard Round or Oval Taps - Diameter: 14-18mm PART NUMBER

Adapter B - Standard Round or Oval Taps - Diameter: 20-24mm PART NUMBER

Adapter C - Square, Round and Oval Mixer Taps - W 34 x H 43mm PART NUMBER
You may be looking forward to your turf arriving in the next few days, if so and the weather is warm you will need to ensure this is well watered as it establishes. To ensure success, it's vital to get a good watering regime in place before your delivery arrives so you can begin watering straight away!
[endtab]
[tab name="Delivery"]
Delivery
Hozelock hose orders will be delivered by DPD on an express 1-2 day service*.
It is essential to water your lawn as soon as it has been received and laid. See our turf product pages for more information.
* Please order your watering solution at the same time as your new turf. We will dispatch the watering items same day Monday to Friday when ordered before 12 noon.
[endtab]
UPC:5010646053211
Brand:Hozelock