Hozelock Rectangular Sprinkler Plus 220m
HOZ-100-100-250-220SPRINK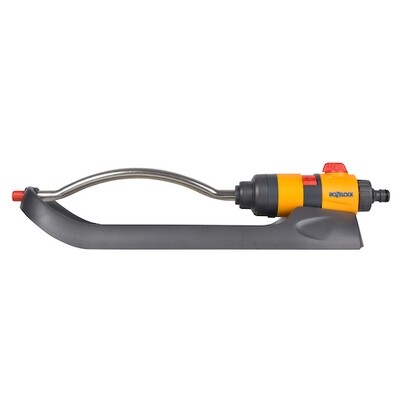 Price :
22.49
GBP
In stock
[tab name="Description"]
The Hozelock Rectangular Sprinkler Plus 220M by Hozelock, offers an adjustable water driven sprinkler solution for your lawn and garden providing even coverage.
The oscillating metal head offers a coverage of 220m² (maximum).
The adjustable arc provides a full fan coverage for a rectangle garden or part of a rectangle.
The pressure of the water flowing through the unit operates its internal motor and 17 jets.
* Please note, the maximum m² coverage is based on optimum 3 bar water pressure being present, given minimal resistance and friction to the sprinkler head. Typically a household water supply is around 1.1 bar and results may be significantly less than this. You may need to move the sprinkler head to ensure a full coverage on your lawn for continued health during establishment and extreme weather events.

[endtab]
[tab name="How To Use"]
[endtab]
[tab name="Delivery"]
Delivery
Hozelock hose orders will be delivered by DPD on an express 1-2 day service*.
It is essential to water your lawn as soon as it has been received and laid. See our turf product pages for more information.
* Please order your watering solution at the same time as your new turf. We will dispatch the watering items same day Monday to Friday when ordered before 12 noon.
[endtab]

UPC:5010646064125
Brand:Hozelock
Product Lead Time:2
Back in stock date:1st March 2023