Micro Reel 10 Metre Small Bore Hose by Hozelock
HOZ-24270000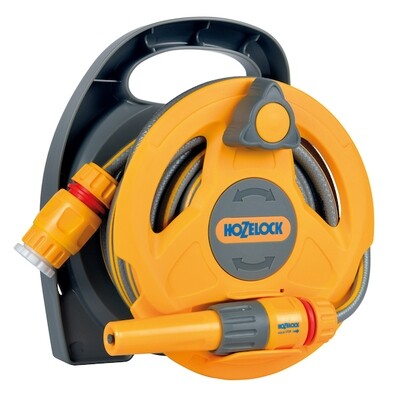 Price :
24.158
GBP
In stock
[tab name="Description"]
Micro Reel 10 Metre Hose - Compact Small Bore Watering
Small but mighty the Micro Reel small bore 10 metre hose is ideal for small space, balcony and patio areas.
The Micro Reel pack comes with:
10 meter hose (7mm boar) manufactured from a hard wearing braided construction guaranteeing quality and durability.
Threaded Outdoor tap connector
1 hose end connector - connects the hose to the tap adaptor
1 water stop connector - attaches to the end of the hose preventing water release when changing between sprinkler and hand spray
Adjustable Multi Spray nozzle
Reel caddy with handle and hose winder
Fuss free watering, click and go, everything is pre fitted on this hose. Housed on a rotating drum similar to an electric extension cable, it allows for easy extension and recall of your hose as you use it with no loss of pressure. The hose has a smaller diameter at 7mm compared to the standard hose at 12.5mm, making this hose compact for easy storage taking up minimum space and can easily be stored under your kitchen sink! This hose is supplied with fittings for an external tap with a thread.
For Properties without an external water supply a tap adaptor will be required.
[endtab]
[tab name="How To Use"]
[endtab]

[tab name="Delivery"]
Delivery
Hozelock hose orders will be delivered by DPD on an express 1-2 day service*.
It is essential to water your lawn as soon as it has been received and laid. See our turf product pages for more information.
* Please order your watering solution at the same time as your new turf. We will dispatch the watering items same day Monday to Friday when ordered before 12 noon.
[endtab]
UPC:5010646062466
Brand:Hozelock
Back in stock date:1st March 2023