75 Litre Peat Free Eco Compost - Coco Grow 5kg
CNCGMGR05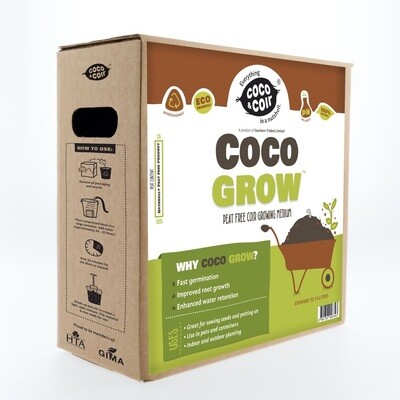 Eco Coir Composts
Price :
10.825
GBP
In stock
[tab name="Description"]
Coco Grow - 5Kg Compressed Compost Makes 75 Litres - Just Add 20-25 litres of Water
PEAT FREE COIR GROWING MEDIUM
Coco Grow can be used on its own or mixed with other materials to create the ideal potting mix. It's the perfect 100% peat free growing medium for plants.

PH and nutrient balanced. Made from natural renewable and biodegradable resources.

Ideal to use in greenhouses, pots & containers, outdoors and for houseplants. Good for potting up, planting and rooting.

Easy to handle, uniform in composition, odourless. Provides good drainage and good aeration.

The presence of organic compounds in Coco Peat results in strong root growth compared with other growing medium. In addition, it's free of bacteria and weed seeds and offers some natural resistance to plant diseases, prolonging plant life.

High water and nutrition holding capacity develops a strong and healthy root system, reducing the need for wetting agents.

Good air porosity, making it ideal for rooting cuttings and potting on seedlings.
Why Coco Grow?
Fast germination.
Improved root growth.
Enhanced water retention.
Uses
Great for sowing seeds and potting on.
Use in pots and containers.
Indoor and outdoor planting.
Dimensions
| | | |
| --- | --- | --- |
| Weight | Litrage (when expanded) | Dimensions (when compressed) |
| 5KG | 75L | 30cm x 15cm x 30cm |
[endtab]

[tab name="Instructions"]
Instructions
How to use
Remove all packaging and recycle.
Place compressed box in a large container. Add water (approx 20-25 litres per 5kg block)
Wait 20 minutes for the block to expand.
Break- up and stir to create a light, open mixture. The material is now ready to use.
...
[endtab]
[tab name="Delivery Info"]
Delivery Information
Delivery is made by Royal mail or other small parcel courier, larger orders may be delivered by pallet network.
48 Hours service from dispatch.
UK Mainland.
Contact us for more information.
[endtab]
Uses:Seeds, Potting, Planting & Baskets
Pack Sizes:5Kg - Makes 75 Litres of Compost - Just add water
Peat?:Peat Free
Available Next Day:Yes (if ordered before 12.30)
1 x 75 Litre Coco Grow (£13.59 each) (0)
3 Pack - 33% Off! (3 for 2) (0)
Pallet Deal - 136 x 5kg Blocks (0)