Lawn Top Dressing 70/30
BG-topdressing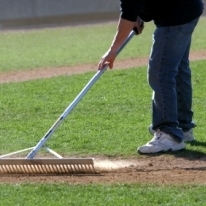 Price :
104.2
GBP
In stock
[tab name="Description"]
Lawn Topdressing
High quality premixed sand and soil Topdressing (70/30), blended using heat treated 3mm screened sports sand.
Available in:
Pallets of 25kg Bags, from 10 bags to a full pallet of 40 x 25kg bags (1000kg).
Also available in a 1 ton bulk bag
Suitable for lawn and sports surfaces, top dressing helps break down the thatch layer in your turf, improves overall soil quality and stimulates grass to produce new shoots for a denser grass cover as well as improving drainage.
Top dressing also helps level out hollows and bumps to create a smooth, regular and true lawn surface for that pristine appearance and a totally even, shade-free space.
Perfect for promoting thick, healthy lawn growth in late spring or for establishing a fertile base for your lawn in late autumn, top dressing is ideal for helping lawn development, including when over seeding to fill in and thin patches.
Ideal for sports surfaces, large turfed spaces or just to bring some professional-league punch to your garden lawn this year!
Stimulates grass growth
Thickens lawns
Breaks down thatch
Improves drainage
Levels lawns
[endtab]
[tab name="Application Rate"]
Top Dressing a Lawn - Application Rate
Top dressing a lawn is simply a case of raking in a fine layer of topdressing, the depth of application very much depends on the situation but somewhere between 0.5cm and 1.5cm depth is recommended.
Depending on the preferred application depth you will require:
0.5cm application: a rate of approximately 4kg to 6kg per square meter
1cm application: depth 8-12kg per square meter
The general rule is 75% of the grass leaf must be exposed. At this rate you may be able to top dress twice in spring and once in autumn if need be.
[endtab]
[tab name="Specification"]

Top Dressing Specification
Our lawn topdressing is a 70:30 horticultural silica sand to sterilised topsoil mix
Particle Gradings:
| | | |
| --- | --- | --- |
| Classification | Sieve Size MM | % Retained |
| Fine Gravel | 4.00-2.00mm | 0.9 |
| Very Coarse Sand | 2.00-1.00mm | 1.4 |
| Coarse Sand | 1.00-0.50mm | 7.8 |
| Medium Sand | 0.50-0.25mm | 53.5 |
| Fine Sand | 0.25-0.15mm | 33.8 |
| Very Fine Sand | 0.15-0.053mm | 2.5 |
| Clay / Silt | <0.053mm | 0.1 |
| pH | | 7.3 |
| Free Lime Content | | Trace |
[endtab]

[tab name="Delivery Info"]
Delivery is made via a curtain sided vehicle with a tail lift offload. Guaranteed to kerbside only. For more information please see our delivery details.
[endtab]
Uses:Topdressing Lawns & Sports Surfaces
Pack Size:25kg and Bulk Bags
Available in Bulk?:Yes - Loads over 15 tonnes
Brand:Quality Garden Supplies
:Express Delivery Available
:✅ Professional Range
Bulk Bag 1000KG (0)
40 x 25kg Bags (0)
30 x 25kg Bags (0)
20 x 25kg bags (0)
10 x 25kg bags (0)