Cottage Garden Wildflower Turf
SH-Meadowmat-cottage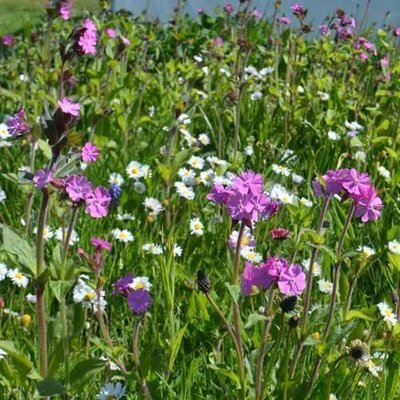 [tab name="Description"]

Cottage Garden Meadow Mat
Cottage Garden Meadow Mat is a mixture of 28 perennial and biannual plants which will produce the look of the traditional English Cottage Garden.
Cottage Garden is very easy to maintain, requiring no fertiliser and mowing only once per year.
The matting is easy to install and quick to establish into a beautiful wild meadow full of vibrant floral displays through the spring and summer months.
Meadow Mat is cut in rolls measuring 50cm x 200cm = 1m2
Meadow mat is grown on a woven horticultural matting which can easily be cut to size and shape with a sharpe knife.

Cottage Garden Meadow Mat contains and 80:20 ratio mix of wild flowers to grasses based on the following seed mix:
20% native grasses To help prevent soil drying out, provide shelter for insects, food for birds and perches for butterflies.
Common Bent Grass
Tufted Hair Grass
80% Native Flora Providing a rich source of nectar from Spring to Autumn
Achillea millefolium (yarrow)
Achillea millefolium Summer Berries
Aquiligia
Autumn oxeye
Bellflower
Birdsfoot trefoil
Common daisy
Common mallow
Cornflower
Cultivated scabious (red)
Field scabious
Knapweed
Meadow saxifrage
Purple toadflax
Ragged robin
Red campion
Ribwort plantain
Rose campion
Sweet violet
Thrift
Tufted vetch
Verbena boneriensis
Vipers bugloss
White campion
Wild thyme
Yellow horned poppy
[endtab]
[tab name="Growing Info"]

Important Information
Meadow Mat is hand harvested in 50cm x 200cm rolls
Meadow Mat can be laid at any time of year, but it must be noted that if laying in the winter the mat will look like it is just a weedy turf, this will transform in the spring into wild flowers.
Meadow Mat Wild flowers meadows can grow up to in excess of 2 foot tall through the summer months.
Growing Conditions
Wild flower meadows require poor soils with low fertility, if grown on fertile soils the grasses will eventually out grow the slower growing wild flowers, smothering them and resulting in fewer wild flowers.
For this reason no fertilisers should be used and where the soils is suspected of being fertile, we would recommend removal of the soil and replacing with a low fertility soil.
Mowing
Wild flower meadows should only be mown once per year, at the end of the winter / start of spring. for best results mow using a strimmer or flymo leaving the mowings on the ground to rot in, seeds will then be self sown to provide new wild flower growth for the coming summer.
[endtab]

[tab name="Delivery Info"]
Delivery Info
**PLEASE NOTE** WE DO NOT DELIVER ON TO GRAVEL!
As Meadowmat is hand harvested the day before delivery and delivered on an express service (98% next day arrivals).
We deliver meadowmat Tuesday to Friday as standard and Saturday (Saturday AM delivery at a surcharge of £60 must be placed over the phone with us on 01785 850653. Deliveries are made on pallets ( pallets are for the customer to dispose of, on curtain sided lorries with a tail lift and pallet trolley. See our delivery details page for more information on our delivery service.
***PLEASE NOTE*** WHEN ORDERING MEADOW AND LOW FERTILITY TOPSOIL, DELIVERIES MAY ARRIVE AT DIFFERENT TIMES OF THE DAY. PALLETS TRAVEL FROM DIFFERENT SUPPLY WAREHOUSES AND MAY NOT ARRIVE AT THE SAME TIME. IF THERE ARE UNFORESEEN DELAYS IN THE DELIVERY NETWORK, DELIVERIES WILL BE COMPLETED THE NEXT DAY ( LIVING PRODUCTS ONLY).
WE ADVISE YOU TO TAKE LOW FERTILITY TOPSOIL AT LEAST TWO DAYS BEFORE TURF INCASE OF DELAYS. PLEASE ORDER THESE ITEMS SEPARATELY SO YOU CAN CHOOSE DIFFERENT DATES AT CHECKOUT!
*** Meadow Turf should be laid within 8 hours of delivery in the summer months. Spring and Autumn laying offers an extended period of time which this can be left without a loss of quality. Delivery delays are possible, Goods left overnight on the pallet should not be covered with tarpaulin or watered as this can damage the pieces! We can not accept responsibility for damaged caused by delayed laying beyond this point. Issues with turf quality need to be reported immediately after laying on the day of receipt, to register an issue email support@qualitygardensupplies.co.uk with date stamped photos and specific issues. We are unable to consider claims for poor turf that have not been reported within the period of the day of delivery which is logged on our shippers portal with the proof of delivery.
PLEASE ENSURE YOU HAVE ENOUGH RESOURCE TO LAY ALL THE MEADOW TURF ON THE DAY OF RECEIPT, CONSIDER POOR WEATHER CONDITIONS AND VERY WARM WEATHER CONDITIONS WHEN PLANNING YOUR JOB AS DELAYS CAN CAUSE DAMAGE TO TURF WE CANNOT BE HELD RESPONSIBLE FOR.
[endtab]
Features:Wild Flower Meadow
Use:Create a Wild Flower Meadow
Brand:Meadowmat
Pack Size:Multiples of 1m2, Each roll is 50cm x 200cm
Product Lead Time:1
Perishable Product:yes