Species Rich Meadow Turf
HT-MEAD-SR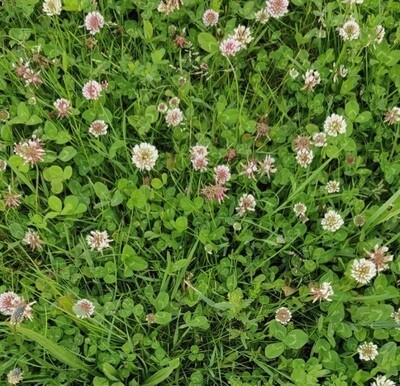 Price :
83.38
GBP
In stock
[tab name="Description"]
Species Rich Meadow Turf

Species Rich Lawn Turf is a blend of 12 slow-growing grasses and 23 native wildflowers. The specially selected grasses ensure full coverage all year round. Species Rich Lawn Turf will contain mature plants, root fibre and enough soil to maintain the plant during establishment.
80% Slow growing grasses
20% Native Wildflowers
Features
Turf is cut to measure 1m² and weigh 18kg – saturated weight may be up to 22kg.
Biodiverse and pollinator friendly.
Low maintenance.
Hardwearing.
Good year-round colour and appear.
Good drought tolerance.
Compatible with most growing mediums found throughout the UK and can tolerate slightly more nutrient rich soils.
[endtab]
[tab name="Specifications"]
Specifications

Standard Size:
Turf is cut to measure 1m²
500mm wide (19.6")
2000mm long (78.7")
Soil Thickness:
15mm to 25mm (0.59" to 0.98")
Roll Weight:
18kg – saturated weight may be up to 22kg
Grass height on despatch:
All measurements are approximate and taken when harvested.
Soil Classification:
Grown on a sandy loam and compost based substrate.
[endtab]
[tab name="Delivery Info"]
Delivery Info
**PLEASE NOTE** WE DO NOT DELIVER ON TO GRAVEL!

As Meadowmat is hand harvested the day before delivery and delivered on an express service (98% next day arrivals).
We deliver meadowmat Tuesday to Friday as standard and Saturday (Saturday AM delivery at a surcharge of £60 must be placed over the phone with us on 01785 850653. Deliveries are made on pallets ( pallets are for the customer to dispose of, on curtain sided lorries with a tail lift and pallet trolley. See our delivery details page for more information on our delivery service.
***PLEASE NOTE*** WHEN ORDERING MEADOW AND LOW FERTILITY TOPSOIL, DELIVERIES MAY ARRIVE AT DIFFERENT TIMES OF THE DAY. PALLETS TRAVEL FROM DIFFERENT SUPPLY WAREHOUSES AND MAY NOT ARRIVE AT THE SAME TIME. IF THERE ARE UNFORESEEN DELAYS IN THE DELIVERY NETWORK, DELIVERIES WILL BE COMPLETED THE NEXT DAY ( LIVING PRODUCTS ONLY).
WE ADVISE YOU TO TAKE LOW FERTILITY TOPSOIL AT LEAST TWO DAYS BEFORE TURF INCASE OF DELAYS. PLEASE ORDER THESE ITEMS SEPARATELY SO YOU CAN CHOOSE DIFFERENT DATES AT CHECKOUT!
*** Meadow Turf should be laid within 8 hours of delivery in the summer months. Spring and Autumn laying offers an extended period of time which this can be left without a loss of quality. Delivery delays are possible, Goods left overnight on the pallet should not be covered with tarpaulin or watered as this can damage the pieces! We can not accept responsibility for damaged caused by delayed laying beyond this point. Issues with turf quality need to be reported immediately after laying on the day of receipt, to register an issue email support@qualitygardensupplies.co.uk with date stamped photos and specific issues. We are unable to consider claims for poor turf that have not been reported within the period of the day of delivery which is logged on our shippers portal with the proof of delivery.
PLEASE ENSURE YOU HAVE ENOUGH RESOURCE TO LAY ALL THE MEADOW TURF ON THE DAY OF RECEIPT, CONSIDER POOR WEATHER CONDITIONS AND VERY WARM WEATHER CONDITIONS WHEN PLANNING YOUR JOB AS DELAYS CAN CAUSE DAMAGE TO TURF WE CANNOT BE HELD RESPONSIBLE FOR.
[endtab]
Features:Wild Flower Meadow
Use:Create a Wild Flower Meadow
Brand:Meadowmat
Pack Size:Multiples of 1m² rolls (1m x 1m)
Product Lead Time:1
Perishable Product:yes