Outdoor Tyre Swing
FF-KG07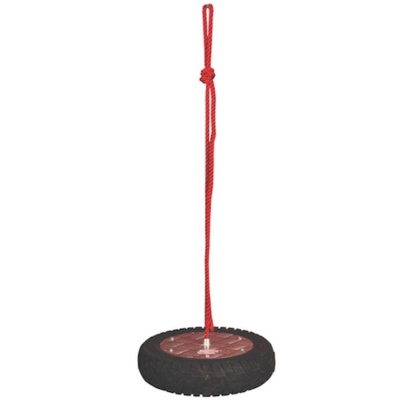 Price :
66.658333
GBP
In stock
[tab name="Description"]
Tyre Swing
Our new heavy duty outdoor Tyre Swing with diamond tread foot / base plate, allows for this to be used either sitting or standing thanks to its anti slip finish. The tyre is 41 cm in diameter and 10 cm deep with a 2 meter rope attached to the centre for creating a loop with which the swing is to be suspended from a tree or frame apparatus.
The swing comes fully assembled but requires secure fitting to the structure it is being suspended from. Suitable for 5 years and up, this adventurous piece of play equipment will give many hours of enjoyment.
[endtab]
[tab name="Delivery Info"]
Delivery
DPD Express ( Next Day) delivery on orders received Monday to Thursday before 13:00. Orders received after 13:00 each day may not be dispatched until the next working day. Orders placed on a Friday before 13:00 will be dispatched the same day but may not arrive until Monday being the next official working day.
In stock now shipping.
[endtab]
UPC:8714982009327
Brand:Fallen Fruits
Use::Outdoor Play
Pack Sizes:1