White De-icing Salt 40 x 25kg
NW-WhiteSalt-42x25KG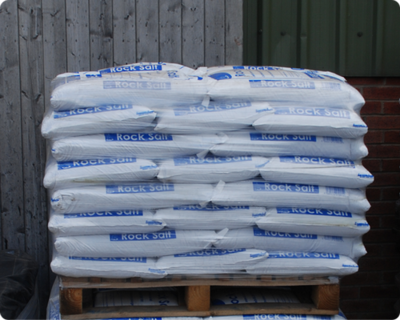 Price :
219.166
GBP
In stock
[tab name="Description"]
White De-icing Salt Pallet 40 x 25kg Bags
Our Bags contain approximately 25kgs of de-icing salt.
A high quality granular marine salt, white de-icing salt is cleaner than rock salt, leaving no residue, our granular white salt is also treated with an anti-caking agent to ensure it flows through spreaders and improve prolonged storage.
0-6mm graded
Exceeds BS 3247 1991
Free flowing for easy spreading
Prevents and Melts Snow and Ice build up
White salt is made from evaporated sea water, it is a cleaner product than brown rock salt and because of this it is popular with schools, hospitals, hotels and office blocks.
Price includes VAT and Delivery to most areas.
[endtab]
[tab name="Delivery"]
Delivery
Price includes delivery to most postcode areas.
Delivery is made via a curtain sided vehicle with a tail lift offload and is guaranteed to kerbside only.
[endtab]
Brand:Quality Garden Supplies ltd
Pack Size:40 x 25kg bags
Use:Preventing & Melting Snow and Ice
:✅ Express Delivery Available