Cresco 20 Summer Spreader (CR20SWG)
CR20SWG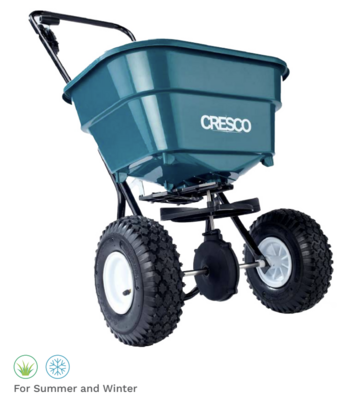 [tab name="Description"]

Cresco 20SWG Spreader
The 20SWG is a real step up in spreaders. If you are regularly spreading salt, grass seed or fertiliser and are wanting an easy to push, quality spreader, pneumatic wheels are essential.
Unlike many other spreaders, our high output model has a high flow rate making it ideal for use with rock salt & grit as it doesn't clog up in the hopper, as well as grass seed and fertilisers.
Up to 30 Litres Capacity
Fully adjustable flow rate and spread width.
Solid control linkage
2.5 - 3.5 spread area, ideal for larger areas
20cm pneumatic tyres, ideal for grip on ice / snow.
High speed, reinforced gear box
[endtab]
[tab name="Assembly Video"]
[tab name="Delivery"]
Delivery Info
Spreaders are delivered via TNT and can take up to 2 to 4 working days to deliver.
For more information please see our delivery details.
[endtab]
UPC:5060885290014
Brand:Cresco Spreader
Pack Size:1
Product Lead Time:1