Rock Salt in 25kg Bags
NW-RockSalt-LP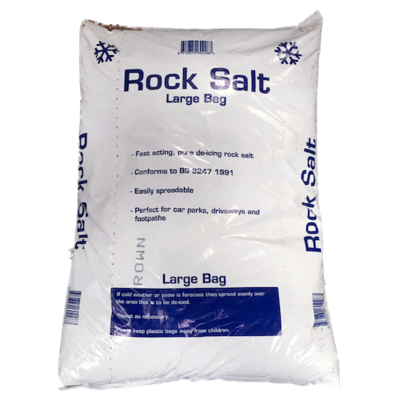 [tab name="Description"]
Rock Salt 25kg Bags
Our sealed bags of crushed brown de-icing rock salt (grit salt), used for preventing ice on paths, driveways, car parks and roads our rock salt is suitable for use in spreaders and is graded to 6mm.
Minimum order is 10 x Large bags, choose the quantity you require from the drop down above.
Price includes delivery to most areas.
Our rock salt or grit salt contains an anti-caking agent to ensure it is free flowing and will pass through most salt spreaders without any problems.
[tab name="Delivery"]
Delivery
Price includes delivery to most postcode areas.
Delivery is made via a curtain sided vehicle with a tail lift offload and is guaranteed to kerbside only.
For more information please see our delivery details.
[endtab]
Brand:Quality Garden Supplies Ltd
Pack Size:25kg bags
Use:Preventing & Melting Snow and Ice
:✅ Express Delivery Available