Turf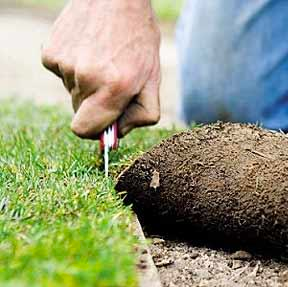 Buy Turf Online
We are a premium turf supplier and deliver turf rolls from Tuesday to Friday. It's cut fresh to order and delivered on an overnight service! We deliver nationwide.
Our team possesses extensive knowledge about the gardening industry to give you peace of mind.
You also have the luxury of choosing from our varied range of quality grown lawn turf - our rolls cover 1m² (60cm wide by 1.7m long). This is the right place to choose the perfect lawn for your garden.
Transform your Garden
Transform your garden into a vibrant, enjoyable place to be. See our selection to choose the right kind for your garden.
Our excellent range includes family lawn turf that is hardwearing and will still look great after the kids have played on it. And we have a supreme version that is perfect for a show garden as it creates a bright, thick and lush lawn with ease as well as our range of wild flower turf for a wildlife friendly natural look.
Turf Delivery and Ordering Online
Simply select the type you require and then choose which pack size you require for your garden. You may want to add a little extra for cutting etc (5% is recommended). If you are unsure of how much to turf a garden then you can call us for advice or use our handy turf calculator.
You can selected your preferred delivery date and service in the checkout - Express delivery is always available for turf and we can usually deliver in two working days from ordering (if ordered before 12.30pm).