Wild Flower Turf (Traditional)
SH-MEADOWMAT-TRAD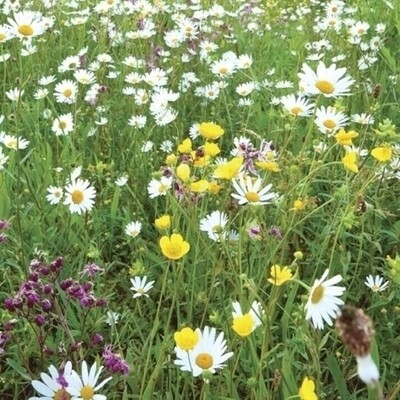 Price :
93.86
GBP
In stock
[tab name="Description"]
Traditional Wildflower Turf

Traditional Wild Flower Meadowmat is a blend of 3 slow-growing grasses and 31 native wildflowers typically found in an old fashioned hay meadow.
Many of the species are perennial which means they will flower every year if the conditions are suitable. The specially selected grasses ensure coverage all year round.
Traditional Meadowmat will contain mature plants, root fibre and enough soil to maintain the plant during establishment.
20% Slow growing grasses
80% Native Wildflowers
Features
Meadowmat is cut to measure 1m² and weigh 20kg – saturated weight may be up to 25kg.
A mixture of mature plants that allows you to establish dense planting very quickly - more reliable than seeding and less time consuming than plug planting.
Biodiverse and pollinator friendly providing a valuable source of nectar and food for many species of insects and birds.
A mixture of grasses and wildflowers for year-round interest.
Environmentally-friendly requiring no fertilisers or pesticides.
Low maintenance – does not require regular mowing.
Prefers a neutral pH but can tolerate acidic or alkaline soils - for best results this product requires installation on a low nutrient soil.
[endtab]
[tab name="Specifications"]
Specifications

Standard Size:
Meadowmat is cut to measure 1m²
500mm wide (19.6")
2000mm long (78.7")
Soil Thickness:
18mm to 20mm (0.71" to 0.78")
Roll Weight:
20kg – saturated weight may be up to 25kg
Grass height on despatch:
Approx. 100mm (4"). The product is mown before despatch to minimise damage to plants. It will not be in flower when it is delivered.
All measurements are approximate and taken when harvested.
Soil Classification:
Grown on a sandy loam and compost based substrate.
[endtab]
[tab name="Delivery Info"]
Delivery Information
We deliver wild flower turf Tuesday to Friday - you can choose your delivery date in the checkout.
We deliver via a Pallet Delivery Network using a tail lift delivery
We do not deliver onto grass, gravel or slopes.>
Wild Flower Turf orders are delivered on an all day basis any time 08:30-18:30 ( later if the delivery agents are running behind). (AM Delivery upgrades are available, please call for price & availability).

WE DO NOT OFFER A CRANE DELIVERY!
We can upgrade your delivery to a Saturday (Saturday deliveries incur a £60 surcharge) or a Priority Delivery (delivered before 1pm) - call for prices and availability on these services.
See our delivery details page for more information on our delivery service.
Meadowmat is hand harvested the day before delivery and delivered on an express service (98% next day arrivals).
---
Ordering Low Fertility Topsoil & Wild Flower Turf?
Wild Flower Turf and Topsoil may be shipped from different locations and therefore may arrive at different times of the day. We therefore advise customers to order topsoil and turf on separate orders, having the topsoil delivered 2 days before turf to enable you to have time to prepare the ground for turf laying.
---

Turf Care - Important Information
Wild Flower Turf should be laid on the day of delivery in the summer months.
Any Issues with wildflower turf must be reported on the day of delivery.
Turf should not be left on the pallet overnight and should not be covered with tarpaulin etc or watered when in the roll as this can damage the rolls!
We can not accept responsibility for damaged caused by delayed laying beyond the day of receipt.
Once delivered you are responsible for the care of your turf.
Turf is a perishable product
PLEASE ENSURE YOU HAVE ENOUGH RESOURCE TO LAY ALL THE MEADOW TURF ON THE DAY OF RECEIPT, CONSIDER POOR WEATHER CONDITIONS AND VERY WARM WEATHER CONDITIONS WHEN PLANNING YOUR JOB AS DELAYS CAN CAUSE DAMAGE TO TURF WE CANNOT BE HELD RESPONSIBLE FOR.
If you are not able to lay all your turf on the day of delivery, we advise you to unstack the pallet of turf and where possible unroll the rolls. Keep your turf in a cool shaded place until you can complete your turf laying.
Early Spring and Autumn / Winter laying offers an extended period of time in which turf can be left in the roll without a serious loss of quality however the quicker you lay your turf the better and less chance of damage.

Delivery delays are possible, although 98% are delivered to service. If there is a delay and your goods arrive the following day, you will be notified as soon as we are aware of this and advised accordingly. Should there be any quality issues because of a delayed delivery the same conditions apply, provided we are notified no later than midnight on the delivery day we can claim for this, and issue new turf.
To register an issue email support@qualitygardensupplies.co.uk with date stamped photos highlighting the specific issues you have, or send a Whatsapp message the link to this is found on your order confirmation email following "report an problem with a product" option C.
We are unable to consider claims for poor turf that have not been reported within the period of the day of delivery, this is logged on our shippers portal with the proof of delivery and is what we use to verify claims.
[endtab]
Features:Wild Flower Meadow
Use:Create a Wild Flower Meadow
Brand:Meadowmat
Pack Size:Multiples of 1m², rolls are 50cm x 200cm
Product Lead Time:1
Perishable Product:yes